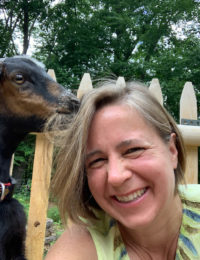 Veterinarian
First and foremost, thank you to everyone who has chosen Salmon Falls Animal Hospital to be their primary care veterinarian. We realize there are a plethora of excellent veterinarians to choose from, so we appreciate the opportunity to be able to serve you.
About me? My name is Dr. Aimee Zelman. I was born and raised North of the border, and graduated with honors from McGill University in Montreal Quebec before pursuing my veterinary diploma from the Ontario Veterinary College in Guelph, ON, Canada.
After graduation, I worked as an associate veterinarian in Massachusetts for 17 years at Newbury Animal Hospital prior to relocating to Maine and joining Salmon Falls Animal Hospital in 2019. Building long lasting client/patient relationships with special interests in preventative care, management of chronic diseases, dentistry and alternative therapies including Acupuncture are the cornerstone of my oath.
My goal is to treat each client with the same courtesy and respect I would expect for myself. Working with owners to achieve maximal quality of life and health for their beloved companions is my primary focus. Veterinarians play a crucial and pivotal role in animal welfare, and I aim to uphold high standards by nurturing great care via education and example.
On a more personal note, I live with my husband, two girls and a menagerie of pets including 2 dogs, 2 cats, 8 goats, 6 guineas, innumerable chickens and on occasion, thousands of bees. I have a love hate relationship with running that has propelled participation in multiple 5k, half marathon, marathon and ultra races. Favorite activities include kayaking, sailing, reading and learning the art of homesteading.