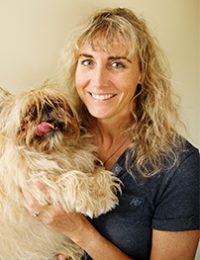 Our hospital is privately owned and managed by Dr. Lee Garrod, a Board Certified Veterinary Specialist with over 25 years of diagnostic ultrasound and endoscopy experience.  Dr. Garrod currently performs advanced ultrasounds, cardiac consultations and endoscopies at our hospital and is consulted by various hospitals throughout New England.
Dr. Garrod graduated from the University of Guelph, Ontario in 1989 and completed her residency at Tufts in 1993 before continuing on to become a boarded Emergency and Critical Care Specialist.  She has 30 years of experience in complicated and uncomplicated veterinary diseases and has a passion for giving pets the best care possible to ensure their healthiest life possible.
Dr. Garrod is taking new clients.  Give us a call to schedule an appointment for your pet.
Visit the American College of Veterinary Emergency and Critical Care at www.acvecc.org to learn more about Dr. Garrod's specialty service and Specialist designation.