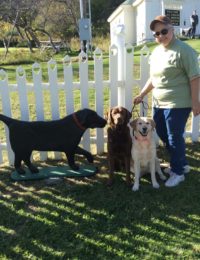 Practice Manager
Debi has been with the company since 2004. She has been in the animal field since 1972.
Debi started from the bottom as a kennel worker and then had her own professional grooming business for 20 years. She also has been a obedience instructor for 20 years. After grooming she joined an animal hospital in Concord and has worked over the years for many hospitals. Has had positions from Head Technician to Manager. She has worked for Emergency, General Practice and Specialty Hospitals.
She joined us at Salmon Animal Hospital in 2019 and is helping Dr. Zelman in managing the hospital. She just moved from NH to Maine in 2021 with her partner and multiple Labrador Retrievers. Her hobbies are Dog Agility, Dog Rally and Gardening/Landscaping.