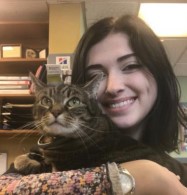 Reese is one of our Veterinary Technicians who recently graduated with her Associates in Applied Science: Veterinary
Technology Degree from York County Community College. She will be taking her board exams this winter to become a licensed tech.
She not only loves animals and caring for them, but she also loves to read fantasy novels (has quite the collection so far) and enjoys the occasional cheesy romcom when unwinding after a day at work.
She has an English Bulldog at home named Yogi and a gorgeous domestic short hair cat named twinkle Toes (in picture).